Pictured above: Natalie Kingston teaching at Maine Media Workshops + College — Photo by Darcy Aders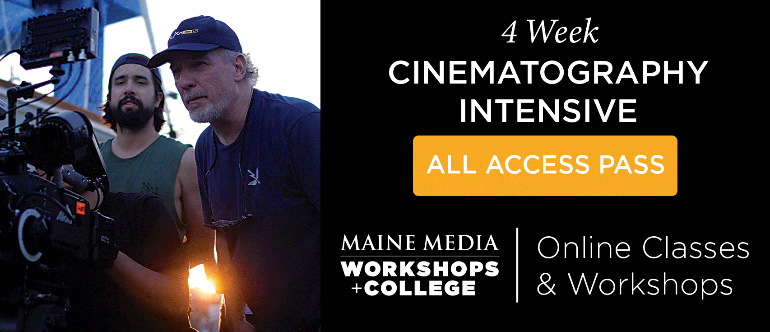 Invite these Cinematography Masters Into Your Home
(While Keeping a Social Distance)
This four week sequence of workshops explore the art and craft of cinematography in a series of master classes, lectures, presentations and demonstrations. Unlike other master classes offered online, you will engage with instructors in real time – not through pre-recorded lectures.
Many of these presentations will allow you to experience key facets and lectures from classes that are otherwise only available to students attending week-long workshops on our Maine campus.
Our cinematography alumni include Oscar-winner Russell Carpenter ASC (Titanic), three-time Oscar nominee Rodrigo Prieto ASC (The Irishman, The Wolf of Wall Street), and three-time Emmy winner Zach Zamboni (Anthony Bourdain's Parts Unknown, No Reservations).
Natalie Kingston
Finding the Light
Natalie Kingston was at a crossroads in her film career. It was at this crossroads that she made the decision to enroll at Maine Media Workshops + College. What started as a two-week endeavor to learn more about lighting and 16mm processes, ended in the completion of a two-month cinematography residency. A residency that, in turn, would be the launching point for a successful and award-winning cinematography career. Natalie credits her time at Maine Media as the "jumpstart [her] career needed."
As her career advances, Natalie retains a strong sense of who she is as an artist. She attributes this knowledge to her time at Maine Media. "I came back [knowing that] I'm a unique artist, I have a unique perspective, and it's important that I bring that to the table and bring that to every project." This uniqueness rings true in her music videos with artists like Billie Eilish and PJ Morton, her work on award-winning feature films and documentaries, and her short films with directors Morgan Roberts and Eva Contis. In this work, you can see Natalie's imprint as she brings the stories to life. The light and mood envelop you, and the world comes alive through the screen, so much so that before you even realize it, you're emotionally transported into the lives of the characters. You live and breathe with them in each scene. Natalie's projects speak volumes to her skill level. Her mark as an artist leaves an indelible fingerprint of her own sensibility, magic, and light, while staying true to the vision of the director and the story.
Natalie is at the forefront of a fundamental shift that is currently happening in the film industry. More and more women are taking the leap into the role of cinematographer, and new pathways are emerging for their careers. Having a strong foundation in what she learned and experienced at Maine Media gives Natalie a sense of duty and mentorship for other women making their way into a cinematography career. "Seeing a woman behind the camera is very impactful… I've tried to put myself out there and show other women that it's possible."
— Written by Licia Morelli
https://www.mainemedia.edu/workshops/item/4-week-cinematography-lecture-series-online/